Datoo Livego or Pro IPTV premium TV app covers every game you need to watch in the Euro 2020 tournament that will start next week. Not only this, it is one of the best IPTV ever, with enjoyable live channels across the world. Are you from Africa? But working in Europe or U.S or Canada, or Australia, and you like to watch your favorite tv shows, then Livego or Pro IPTV is the best option for you. Datoo Livego or Pro IPTV premium TV service features 80% of DStv African channels from Nigeria, South Africa, and Kenyan local content, including the supersport channels. This post review will guide you to know more about the Datoo Livego and Pro IPTV premium TV service and how to use it to watch Euro 2020 championship games.
Key Specifications:
Unique and Interactive interface
Well-arrange channels in countries and languages
99.9% server uptime
Smooth and fast opening channels
Parental control
More than 13,500 Live TV and 20,500 VOD from different languages
Different streaming format SD, HD, HEVC H.265 and 4K
Built-in different player software
Features with varying images of background
Compatible with Satellite receiver, Android, iOS, Firestick, Roku, TV boxes, And Smart TV
Royal IPTV activation code is in the form of digits
Datoo Livego And Pro IPTV Premium TV Service Review
Livego or Pro IPTV premium TV service is the same as offering more than 13,000 live tv channels and more than 20,000 Video-On-Demand (VOD). Enjoying both local and international contents in a high-quality resolution of 4K, high definition for any user with high-speed internet. Users with low-speed internet can stream with standard definition (SD) channels.
Datoo Livego or Pro IPTV premium TV Service has Sports, News, Documentaries, and Movies contents. You can easily navigate to your country to watch your local tv shows on the IPTV service. ABS, CBS, CNN, ESPN, Fox Sport, NBC, and others are available for the United States. TSN, Adult Swim, CBC, SportsNet, and PPV contents are available for Canadians. Datoo LiveTV or Pro IPTV offers channels from the UK, France, Sweden, Denmark, Ireland, Germany, Portugal, and many other countries in Europe. Countries like Indian, Pakistan, Hungary, Australia, New Zealand, and Africa can also watch their favorite TV shows with the Livego or Pro IPTV premium TV Service.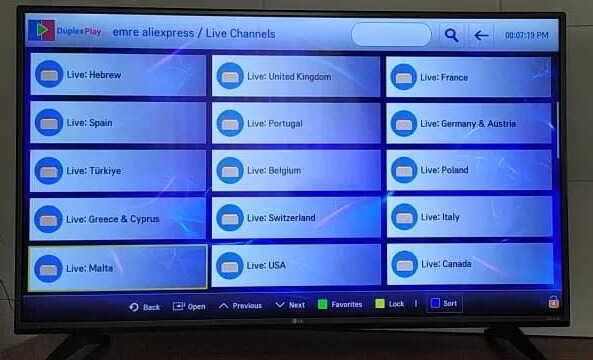 More than 20,000 movies from different countries are available in our IPTV service with updates on new films. With the help of the high-speed servers in Livego or Pro IPTV app, there's no buffering and freezing of channels 98% uptime. You can stream from your choice's different devices, including Smart TV, Samsung TV, LG, Hisense Apple TV, Nvidia Shield, Firestick, Android TV box, and mobile phones.
As Euro 2020 championship is around the corner. Datoo Livego and Pro IPTV premium TV Service will give you a better watching experience in high-quality video resolution. And you won't miss any of the 51 games to be playing. Different Sports channels are available in several languages of your choice. A trial will convince you. You can as well try Royal IPTV for Arabic sport contents for Euro 2020 live commentary.
Datoo Livego And Pro IPTV Premium TV Service Subscription Price
A 12-month subscription to Datoo Livego TV or Pro IPTV app costs $85 for a single device connection. If you like to buy it, you can contact me, and we accept PayPal, Skrill, and Moneygram as payment methods.
Please follow and like us: