ChMax is one of the services offered by the Metamango platform. It is the latest technology for watching premium channels across many satellite packages without receiving a signal from the satellite dish. However, you need internet data to run Chmax smoothly.
About Metamango
Metamango helps to manage and view some TV channels. You can choose your favorite channels to watch. To manage and view the channels and video on demand via the internet. You can watch exciting programs on demand at any time.
Metamango allows the user can view the channels via satellite when there is no internet. You can watch many programs using a satellite dish even without the internet.
EPG Pro is an advanced EPG system that merges all the website and lives stream data, including the multi-language translation service. EPG with poster and trailer gives more valuable information.
You can easily scan or, lets me say, upload channels on your receiver without having a signal using the Metamango platform.
To set up Chmax on the Metamango platform, you must have a satellite receiver with an active Apollo5 IPTV subscription and a stable internet connection.
How To Link Satellite Receiver With Metamango
1. Open this link or scan the Mango cloud QR code from your receiver using a mobile phone to enter the Mango platform
2. Register a Mango cloud account using your email and verify your email.
3. After login, open "Terminal" and then click add "STB" to link or bind the Serial Number of your receiver to the account portal. A verification code will be displayed in the "Save To cloud" interface for the first time or Check About STB menu
To access the "Save To Cloud" menu from your receiver, Press menu>>>Edit Channels>>>User Channels List>>>Save To Cloud" then press the green button to save the channel list to the Mango cloud server.
To download and update previously saved channels, then you need to "Load from Cloud" Press Menu>>>Edit Channel>>>User Channel list>>>Load To Cloud.
4. Open Cloud Services, then enter ChMax, at here, you can copy, add or edit or delete and arrange a saved channel list according to your taste. You can see the picture below for the list of satellite packages added.
5. Tap on "Save" and reboot your STB. The newly added channel will appear on the channels list.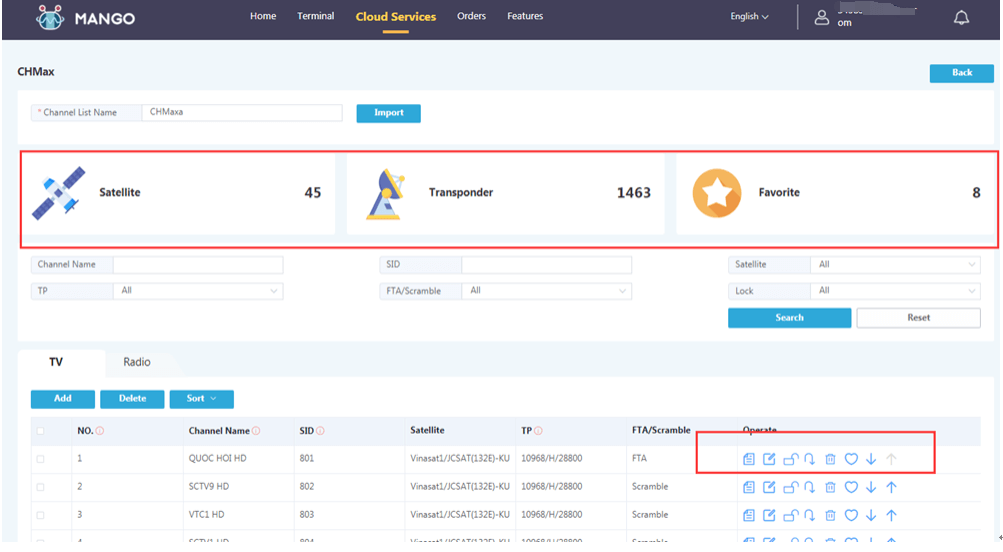 6. ChMax Settings on your STB. Make sure your STB or receiver is running the latest software version, and activate the hidden menu by pressing F1 and 0000, then choosing "Enable Internet." To access the ChMax Settings menu, Press menu>>>Settings>>>ChMax. You can switch on the following, as shown in the picture below:
ChMax Supported STBs
Any receiver with forever server or Apollo IPTV can support ChMax, including the following:
Mediastar: MS-Mini, MS, and Diamond series
Tiger: T series, and One Million
Starsat: SR and 4K series
Vision
Senator
Geant
iBox: Ghost box 2, and Octopus 4K
StarMax
HD Premium
Benefits of ChMax
You can access the satellite packages unavailable in your region even if you have a larger dish. For instance, it is tough here in Nigeria to access most European and Middle-East satellites, including Astra 19, Hotbird 13, Nilesat 7W, Eutelsat 16A, and others. With ChMax, you can have these satellite packages without having their signal.
You can watch live sports, movies, documentaries, and news comfortably. The quality pictures quality is excellent. It gives more information about the channel you're watching and loads each channel logo.
Note that the version of the forever server on your STB will determine the channels working on your receiver. Forever Pro has more channels working than regular Fshare servers.
Metamango Cloud services can manage your channel list without using a remote. You can add more STBs for the same channel list on a single account. Don't forget to drop your comment below if face any challenges.
Please follow and like us: