Porsche 4K TV IPTV offers tons of 4K channels worldwide for high-speed Internet connection. Even if you are in a poor connection area with at least 3MB/s, with the aid of anti-freezing technology integrated into the Porche 4K TV IPTV server, you can stream without single buffering.
Porsche TV IPTV will test your speed connection before switching to a suitable resolution that can help you have a good watching experience. Let's quickly check the features of the Porsche 4K TV IPTV app.
Features of Porsche 4K TV IPTV App:
Offer HEVC.H.265, 4K, FHD, SD, and low streaming channels of Sports and movies
Support: Smart TV, Android, Android TV Box, Firestick, iOS, iPad, Linux, and Window
Support M3U IPTV Playlist, STB Emu, and Enigma
Over 16500 Live TV and 25,600 VOD at a high-quality resolution
EPG and parental control
Capability to record
PPV for Soccer, NHL, MLB, Boxing, Wrestling, NBA, and so on
Netflix Content
Has Shahid content
Support Disney+ and Apple plus TV
Amazon Prime and HBO Content in different languages
DStv, Bein Media, Polsat, and Virgin Media packages
24/7 customer support
Activation Code Lock with the first device for security purposes
Review
Porsche 4K TV IPTV App is well-designed, with a friendly interface and easy navigation. You can control channels, especially adult ones using the parental control option.
Porsche TV IPTV offers over 16,500 Live TV channels across the world. Most of these channels are in European countries, including France, Germany, the United Kingdom, Portugal, Netherlands, Albania, Italy, Sweden, Slovenia, Macedonia, Croatia, Serbia, Ukraine, Russia, Greece, and many more.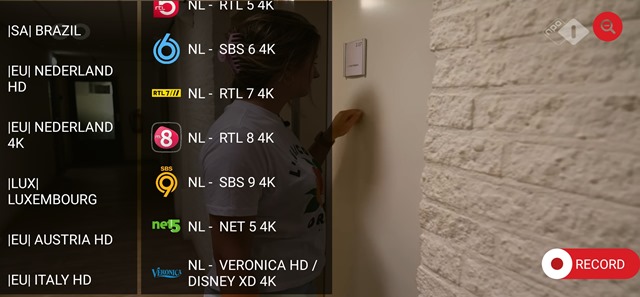 Channels from Arabian countries like Saudi Arabia, Morocco, Algeria, Tunisia, Lebanon, Syria, Afghanistan, Iraq, Iran, and many more are available on Porsche 4K TV IPTV App. You can watch movies from Shahid (Video-On-Demand) for Arabian movies.
For African countries, Porsche IPTVincludes exciting channels from South Africa, Nigeria, Zimbabwe, Kenya, Ghana, and many others. DStv content is available for international and local sports, movies, news, and kids.
Porsche TV IPTV offers over 5000 4K channels for Pay-Per-View content, especially for sports content from the United Kingdom, United States, Portugal, Netherlands, Belgium, France, Poland, Sweden, Albania, Hongkong, and many more.
As for the movies, Porsche TV IPTV offers the latest movies from Netflix, Amazon Prime video, Pluto, HBO, Apple+, and Disney+. Most of the films are uploaded and updated daily at 4K resolution. Over 25,000 movies are available on different languages.
READ ALSO:
Porsche 4K TV IPTV Servers
We adopted the latest technology for delivering IPTV service to our dear customers. Ant-freezing will prevent you from experiencing buffering while using Porsche IPTV. As we move to the World Cup shows in Qatar. It is one of the best and most reliable IPTV services to watch the FIFA World Cup Qatar 2022.
Compatibility
Porsche IPTV can work on different devices, including Android, Android Box, Tablet, iOS, Apple, Firestick, Roku, Mag, and Windows.
Live Support
Engineers are constantly working to fix server loopholes for a better experience using our service. We promptly respond to our customer's complaints.
Pricing
A Porsche 4K IPTV subscription costs $25 per month. However, A yearly plan costs $150. Getting a 12month activation code will save you money to buy another item. We also support PayPal, Skrill, Payoneer, and bank transfers.
We also want resellers for those who want to invest in IPTV services. Contact me to become a Porsche 4K IPTV reseller or buy an activation code.
Please follow and like us: