This article explains how to connect TCL Q6 Series Android TV to stream more IPTV or Netflix. TCL Q6 Series Android TV allows you to connect to the internet through Wi-Fi or Ethernet.
How to Connect TCL Q6 Series Android TV to Wi-Fi for the First Time
Follow the below steps if you're connecting your Roku to Wi-Fi for the first time.
What You'll Need
To prepare for the internet connection process, you need:
Your TCL TV
Your TV remote control
A Router with Wired or Smartphone's Hotspot Wireless connectivity options
Your Network/Router Password
READ ALSO: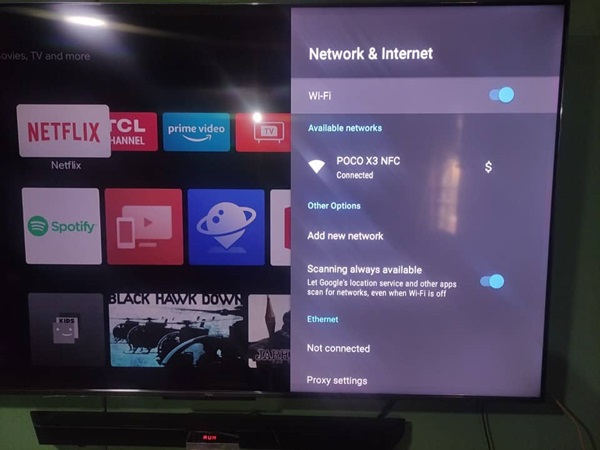 Connect to the Ethernet or Wi-Fi
Once you have your TCL Android TV and router device connected to power and powered on, you'll be guided through a setup process that includes connecting the TCL TV to the internet.
If you select Wired, don't forget to connect your Android TCL Q6 Android TV to your router using an Ethernet cable. Your TCL TV will directly connect to your home network and the internet. Once confirmed, you can continue with the remaining setup steps for your TV.
If you choose to use Wireless, there are additional steps to complete the connection process before moving on to the rest of the TCL TV setup steps.
Press the "Home" button on your TCL Q6 Android TV remote control
Scroll and select "Settings."
Tap on the "Network & Internet"
Select your Wi-Fi network
Enter your router password to connect
Tap on connect, and wait for a few seconds to establish the connection.
Once you get the connection successfully on your TV screen, you're good to go.
READ ALSO:
Alternative Method:
Press Settings button
Scroll down and tap on "More Settings."
While on General Settings, tap on Network & Internet
Enter password and tap on connect
Similarly, you can use your smartphone, be it android or iPhone, as the router, turn on the hotspot on your phone's setting. Lastly, follow up with the steps guide stated above. That's how to connect TCL Q6 Series Android TV to Wi-Fi or Ethernet. You'll be able to stream contents from different online streaming platform like YouTube, Netflix, and Amazon Prime Video.
Please follow and like us: