Yayi Y-2 HD TV decoder seems to be one of the best alternatives to watch live football. DStv subscription to watch the live sport, most especially soccer, keep increasing every day as implement new subscription price today.
If you are looking for the best alternative to live soccer besides DStv, I will suggest going and buying a Yayi Y-2 HD decoder. One of the most exciting parts of this machine are, you can use it to watch any other free-to-air channels, support multistream and IPTV even when your subscription has expired.
In this post, I will do a review on Yayi TV and Y-2 HD decoder, Satellite, frequency, how to get started, the subscription price, and how to renew it.
Yayi Y-2 HD Decoder Key Spec
DVB-S/DVB-S2 and DVB-S2X compliant
Support Multistream
Support HEVC H.265 compliant
Diseqc Switch 1.0/1.1 USALS
HDMI, AV jerk and USB Ports
Support Xtream IPTV protocol
Blind Search
Support Youtube
ALSO READ : AFN Satellite: How To Watch AFN Channels From Anywhere
Review
In the case of design, it combines both yellow and black colors. It is very portable and easy to carry so much so that you can take it along while you're traveling and make use of a dishless feature like IPTV and Youtube via streaming.
Yayi Y-2 HD decoder comes with an external Infrared interface for fast and responsive operation while using the remote control. If features with USB, HDMI, AV jerk, and power ports.
While testing, the graphic design is superb, and I check on the tuner compliant, and it performs well on multistream channels tested with Max TV on Astra 28.2 e.
You can still use it to watch any free-to-air channels while waiting to renew your Yayi Y-2 HD decoder subscription. Let's move on to how to get started with the receiver.
How To Get Started?
Before you start using the Yayi Y-2 HD decoder, you need to know how it works.
What is Yayi TV?
Yayi TV is not an authorized digital satellite tv provider and operates in the West African and Middle-East regions. The company delivers digital tv services to its customers through Azerspace at 45.0e with the coverage available across the West African and Middle-East regions.
ALSO READ : How To Upload M3U IPTV Playlist On Samsung And LG Smart TV
The Frequency Used By The Yayi TV on Azerspace At 45.0E.
Dish Size: 60cm dish above
Satellite: Azerspace at 45.0E
Frequency: 12513
Polarization: Horizontal
Symbol Rate: 12500
Yayi TV also operate in ABS 3W using Frequency 11170 H 7500 for Middle-East region.
Before you proceed to track your dish, I request you to get the following tools ready:
A Digital Satfinder
Hammer, Spanner of different sizes, Screwdriver and a ladder
A Yayi Y-2 HD decoder and TV
Tips:
A brand new of Yayi Y-2HD decoder comes with a 1month free subscription.
Yayi TV has three channels dedicated to the sport, most from European football leagues.
A unit cost of the Yayi decoder start from N15,000 above depends on the dealer.
There are no unoficial offices to purchase it or renew Yayi tv subscription directly usually cost N4,500.
ALSO READ: Apollo IPTV Review : How To Renew Apollo IPTV Activation Code
How Do I Point My Dish To Get Yayi TV Channels
Firstly, check the ladder is well placed on the ground, and the dish pole is strong enough to hold the dish.
Use the dish pointer app to find satellite information such as inclination, Azimuth, and LNB screw adjustment. Write those details down in a sheet of paper.
Set the azimuth according to the value written down.
Lose the inclination sleeve nuts allowing to move dish up and down.
Set up the Satfinder accordingly, i.e., Yayi tv Satellite is Azerspace at 45.0e using frequency 12513 H 12500.
Raise your dish to the 45 degrees, once you get the signal, tight the inclination sleeve nuts
Try to improve the signal by adjusting the azimuth from left to right and making sure the signal is not lost; otherwise, retore it back to the original position.
Screw the LNB for possible signal improvement
Tight the sleeve nuts of both azimuth and inclination permanently.
Disconnect the cable from Satfinder and connect to the Yayi Y-2HD decoder
Plug your decoder to the power socket
Sit back and enjoy the world of sport. If the Yayi decoder not showing picture try to to renew the subscription.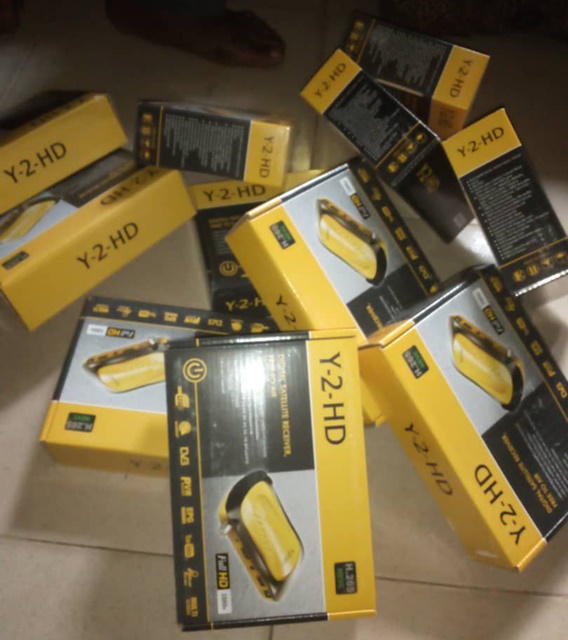 How To Renew Yayi Y-2 HD Decoder Subscription
To renew your Yayi Y-2HD decoder, you need to get the following ready:
A Yayi Y-2 HD decoder pointed with the active signal.
Decoder Serial Number, to get it: Press Menu>>>>>Settings>>>>>About STB/STB Information and copy out the Serial Number
Contact your Yayi decoder dealer or supplier to make the payment. If you don't have, you can contact me to renew your Yayi tv subscription fast.
While making the payment, make sure your decoder is power on to monitoring the activation.
Once the dealer finishes renew your Yayi decoder then, the signal will come up immediately.
READ ALSO: How To Upload M3U IPTV Playlist File On Supported Devices
Where To Buy Yayi Y2-HD Decoder?
Yayi Y2-HD decoder is available in the following country Nigeria and Ghana as the market center in West Africa, While Dubai is the market center for Middle-East. Just check any of the available local markets of those countries or Contact me to place an order.
What Can I Watch With The Three Channels On Yayi?
Well, all the three channels on the Yayi TV decoder are purposely for watching live soccer such following.
English Premier League
LA Liga
Bundesliga
Serie A
Ligue 1
FA Cup
Carabao Cup
Champions League
UEFA Cup
European Qualifiers and International Friendly and so on.
READ ALSO: MyTV Africa: Frequency, Satellite And How To Activate My TV Decoder
Yayi TV VS DStv: Who Win?
I don't have to repeat much about Yayi; where does DStv get it right over Yayi are as follows:
A crystal clear picture in high definition
Real-time live events without match delayed.
Official digital broadcast with the copyright owner
Bunches of channels for both sport, movies, lifestyle and so on
Direct customer service
Covers variety of sport events
While Yayi TV gets it right over DStv as follows:
Affordable cost of purchase and renewal subscription
Covers all the top European Leagues
Only dedicated to watching live football, but showing Hollywood and Bollywood movies when there are no live matches
No direct payment and customer support except through agent or dealer.
Yayi decoder support IPTV, Multistream and H.265 compliance for free-to-air channels
I leave my audience to judge, decide, and follow their interest because all fingers are not equal. You can also enjoying IDMAN TV and CBC Sport for the same purposes.
READ ALSO: ESPN Is Back On DStv And Make Debuts On GOtv For The First Time
Please follow and like us: