Icone Iron Pro seems to be the leading digital satellite and android 4K receiver used in Egypt. With the help of 2years of Gogo IPTV and Orca IKS server embedded in the receiver. Icone Iron Pro comes with a DVB-S2X advanced tuner for multistream channels. Let's check out the key features of this receiver.
Icone Iron Pro 4K Receiver Key Specifications:
DVB-S2X Tuner and Multi-stream tuner
Hisilicon 3798MV200
2G RAM DDR4 and 16GB internal storage
Fully Support H.265 and 4K resolution
Built-in Android 7.0 and Linux O.S
Support Oscam, CCCAM, Mgcam via plugin
PowerVU and Biss via Oscam or Coconut
Support Air Sync Remote Z
Built-in 24month GOGO IPTV subscription
Icone Iron Pro comes with a 24month ORCA IKS server.
Body And Design
The appearance is superb and optimized to the extent that it is lightweight. Icone Iron Pro 4k Receiver is in black polish color on the top with vents hole at the top side. The front panel displays channels name and functions menu, power standby, and button.
You will find the DVB-S2 tuner, HDMI, AV, LAN, HSPDI, MicroSD card slot, and power input at the back. You will discover a Card slot embedded at the side if you have any unpaired cards to watch TV without using the provider set-top box.
READ ALSO:
4K Resolution And HEVC H.265 On Icon Iron Pro Receiver
Many components boot the sharpness, even higher image clarity, and extended color range. The recent decoding technologies include 4K HDR, HDR10, HLG, UHD 4K 60fps H.W. decoding, H.265 HEVC 10-bit.
Android 7.0 O.S. (Nougat)
The built-in operating system host a modern and practical menu interface running O.S. Android 7.0 Nougat. Many different games and applications from the vast Google Play application market.
Icon Iron Pro android and digital satellite receiver come with a powerful processor from Hisilicon, built-in eMMC memory, and high-speed DDR4 RAM provides fast operation. Connect the gamepad, and the receiver will turn into an Android game console improving the gaming experience.
Orca Server IKS And Gogo IPTV on Icone Iron Pro
Orca Server internet key sharing is known as IKS on the Icone Iron Pro 4K receiver lets you watch satellite packages from different satellites. Including the Canal packages on Astra 19.2e, Hotbird 13e, Bulgariasat on 1.9e, A1 on Hellasat 39e, Total TV, DigitAlbania, A1 Telekom (Austria), Orange Slovensko, Max TV, A1 Croatia, and Airtel HD on 108e e.t.c.
As for the IPTV, the setup is straightforward, and the contents are well arranged. It features channels from different countries, including most channels you can't get on satellite due to the coverage. The quality pictures of those channels are superb, and no matter where you come from, you'll find your local channels to watch on Gogo IPTV.
Icone Iron Pro 4K Receiver With DVB-S2X/T2-MI Multi-Stream Tuner
The DVB-S2X standard is the latest technology standard for future television broadcasting, providing enhanced performance and advanced features. It is otherwise known as T2MI or Multi-stream, just like Mediastar Phoenix 4K receiver.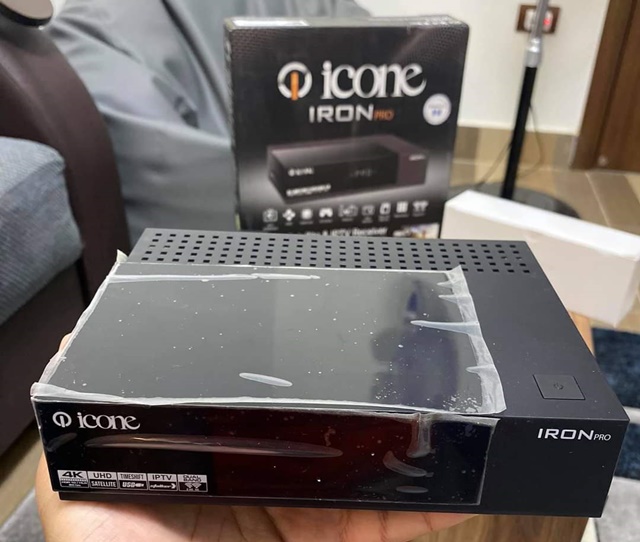 Icone Iron Pro 4K Receiver Price And Availability
A unit price is $300 without the shipping, you can contact me to place an order, and we accept Payoneer, PayPal, Skrill, and Western Union. You can watch the full setup and review video, if you find it difficult to use for the first time.
Please follow and like us: